Tom Kundig: Houses to be Re-released in New Paperback Edition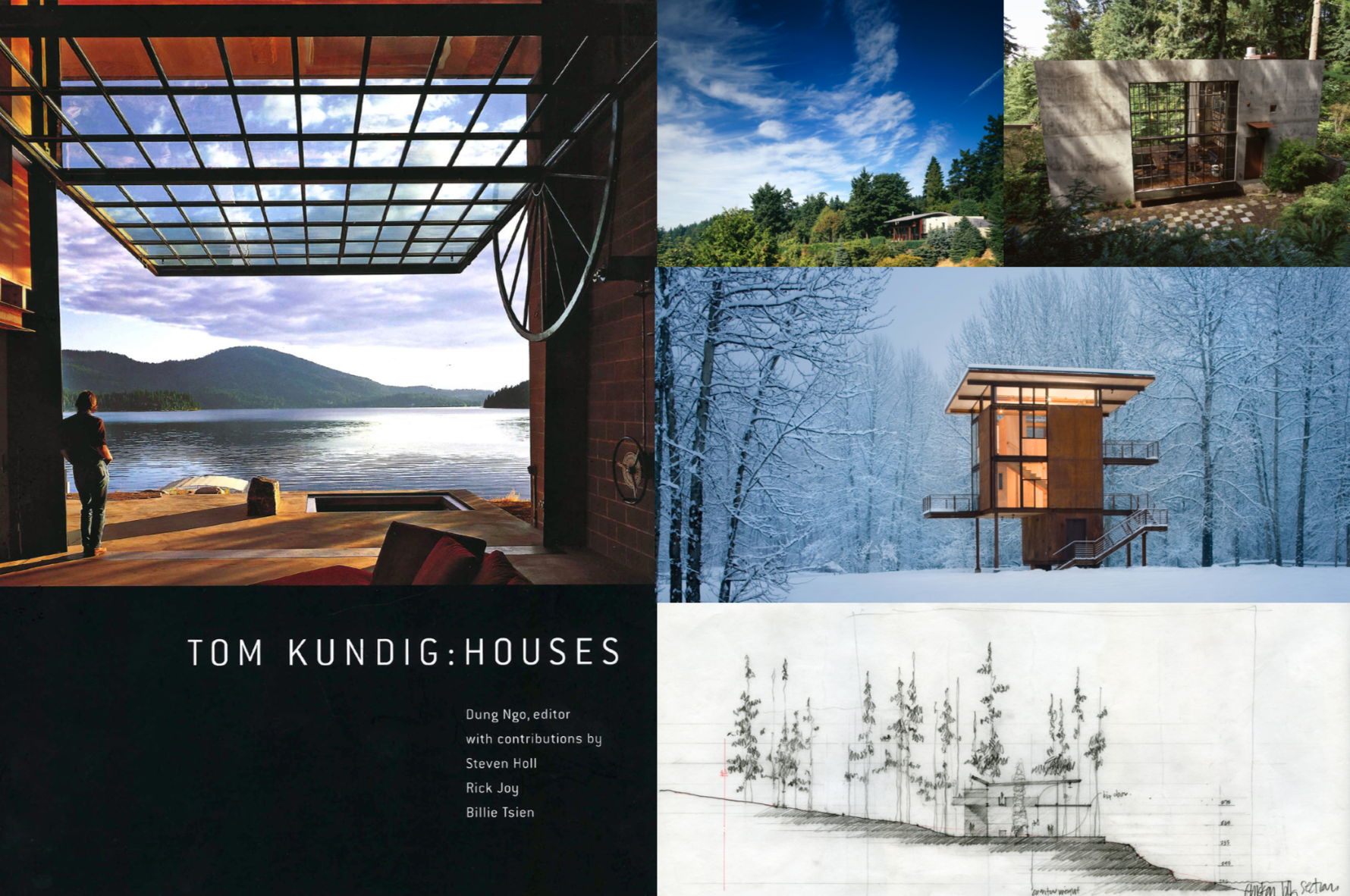 SEATTLE, WASHINGTON, May 7, 2021 — Olson Kundig is pleased to share that a new paperback edition of principal/ owner Tom Kundig's first book, Tom Kundig: Houses, will be published by Princeton Architectural Press on May 25, 2021. Originally released in 2006, Tom Kundig: Houses features five of Kundig's most notable early residential projects.
"It's hugely exciting and extremely humbling to see my first book released in a paperback edition," shares Kundig. "The projects included in this book represent a pivotal moment in my practice, when my point of view as an architect was coming into focus, and I can't thank Princeton Architectural Press enough for taking a risk on me. Years ago, Tom Kundig: Houses provided a platform to share my work – and now, in paperback, creates an opportunity to reach even more people and continue that dialogue."
Each of the homes profiled in Tom Kundig: Houses is presented from early concept through completion, with a range of hand sketches and design studies included alongside bold photographs and narrative descriptions. Original essays and reflections on Kundig's design ethos from architects Steven Holl, Rick Joy, and Billie Tsien are also included in the book, which was edited by design writer Dung Ngo. In a new preface written for the paperback edition, Kundig reflects on the influence these projects have had – and continue to have – throughout his architectural career.
"This collection of Tom Kundig's early work is a vivid reminder in our digital world of craft's essential role in making architecture that stands the test of time," said Abby Bussel, Princeton Architectural Press Editorial Director. "It's a message that will resonate with both students considering a life in design and practitioners who've spent a lifetime in the field. We're thrilled to partner with Tom on the paperback edition of Tom Kundig: Houses."
Tom Kundig: Houses was the first volume of Kundig's work published by Princeton Architectural Press. In the intervening years, the publisher has released three more monographs showcasing his work, including Tom Kundig: Working Title, published in June 2020. The international success of these monographs is a testament to Kundig's worldwide reach and influence on both architectural practitioners and design-minded audiences. The paperback edition of Tom Kundig: Houses is available for preorder at all major book retailers.
About Tom Kundig
Tom Kundig, FAIA, RIBA, is an owner and design principal of Olson Kundig. Kundig has received some of the world's highest design honors, including a National Design Award in Architecture from the Cooper Hewitt Smithsonian Design Museum, an Academy Award in Architecture from the American Academy of Arts and Letters, and an election to the National Academy as an Academician in Architecture. Kundig has been awarded the AIA Seattle Medal of Honor as well as a Distinguished Alumni
Award from the University of Washington. Known for his contextual approach to design, Kundig emphasizes the primacy of the site. His buildings are a direct response to place, often serving as a backdrop to the built, cultural or natural landscapes that surround them.
About Olson Kundig
Now in its sixth decade of practice, Olson Kundig is a collaborative design practice whose work includes cultural and museum projects, exhibition design, commercial and mixed-use design (including wineries and sports facilities), private and multi-family residential, hospitality projects, places of worship, interior design, product design and landscape design. With deep roots in the Pacific Northwest, the firm and its staff of 200 work with clients around the world. More information at olsonkundig.com.
About Princeton Architectural Press
For forty years, Princeton Architectural Press has been a leading publisher of books on architecture, design, and visual culture. In recent years, the Press broadened its scope, introducing a children's list and a line of stationery products. We've made our reputation by identifying new trends and publishing first books on emerging talents, as well as definitive works on established names, and by creating books of unsurpassed design quality and production values. Beginning with Letarouilly's Edifices de Rome Moderne, published in 1981, and still in print, Princeton Architectural Press has produced over 1,500 intelligent and stimulating publications. In 2017, the Press received the Arthur Ross Award for Excellence in the Classical Tradition from the Institute of Classical Architecture & Art. Founded in 1981 in Princeton, NJ, the Press is now headquartered in Hudson, N.Y.
Media Contact
For further inquiries and information, please contact:
Ciara Cronin
Director of Public Relations & Communications
206 624 5670