Nike Unveils LeBron James Innovation Center, Designed by Olson Kundig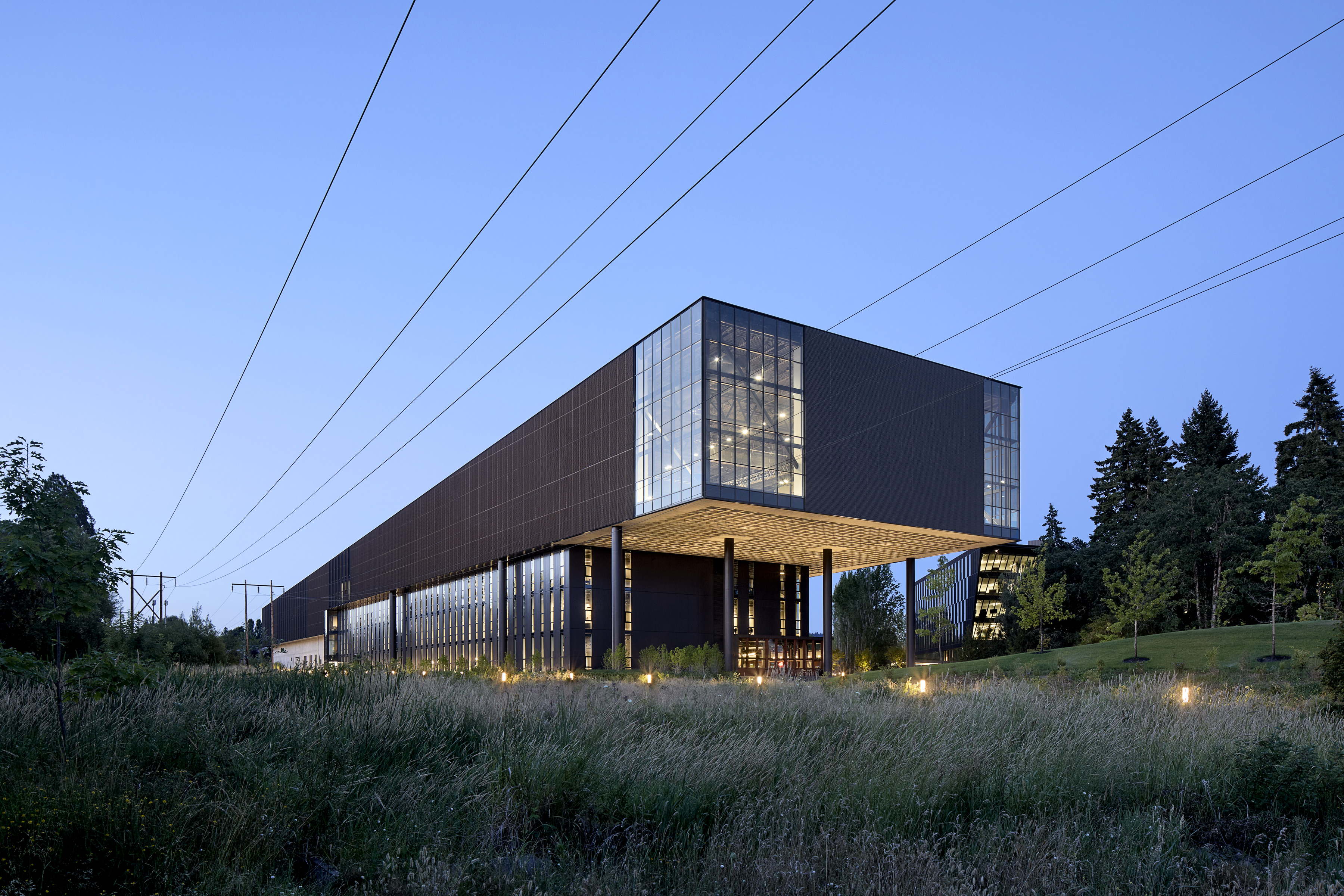 SEATTLE, WASHINGTON, October 13, 2021 —Olson Kundig is pleased to share the official unveiling of the LeBron James Innovation Center at Nike World Headquarters (WHQ). Led by Tom Kundig, FAIA, RIBA, the new building unites more than 700 staff from innovation teams previously spread across the Nike campus, to foster cross-pollination and collaboration across teams.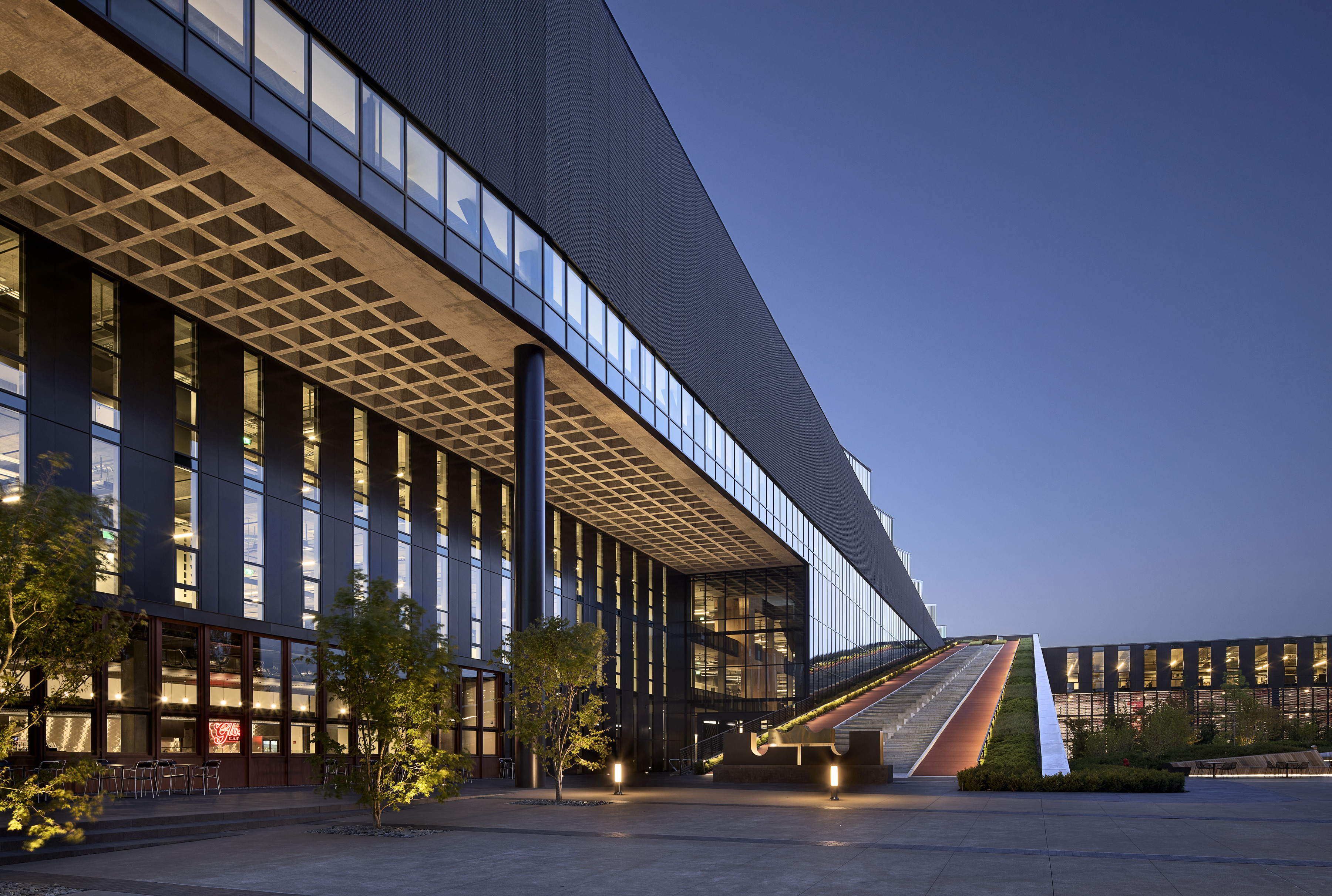 The LeBron James Innovation Center establishes Nike's ongoing research and development as the heart of its Beaverton, OR-based campus. Inside, an open, four-story central atrium creates a bright, welcoming center for engagement and spontaneous encounters, as well as an intuitive system for wayfinding throughout the building.
At the top of the 700,000 SF building, the Nike Sport Research Lab (NSRL) cantilevers 50 feet above the main entry, featuring a mega truss structure and waffle slab base that express the building's engineering craft and nod to the iconic waffle pattern of early Nike shoes. The NSRL houses a track, full-sized basketball court and partial soccer pitch, and connects to the signature 100-meter, 15.63% incline ramp on the facility's exterior.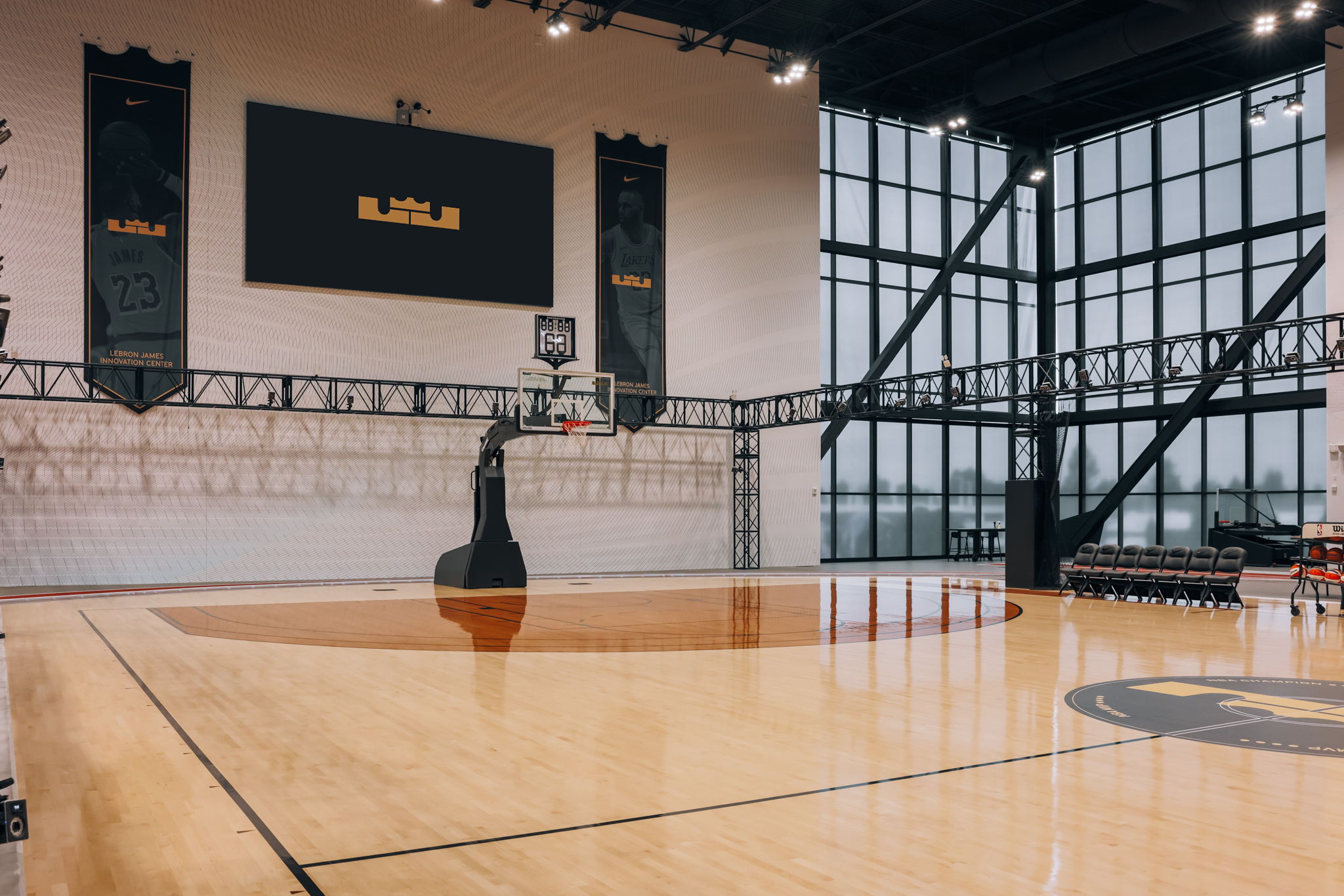 "In a way this project is like the culmination of a career spent pursuing authenticity—in architecture, in systems, in materials," shares Tom Kundig, FAIA, RIBA. "I've always felt the basis of architecture is function-driven with a poetic finish. The physicality and athleticism you see in this building is something I've been exploring throughout my career at a variety of scales. I've enjoyed working alongside the many entrepreneurs and risk-takers at Nike, and I'm honored that they took a risk on me."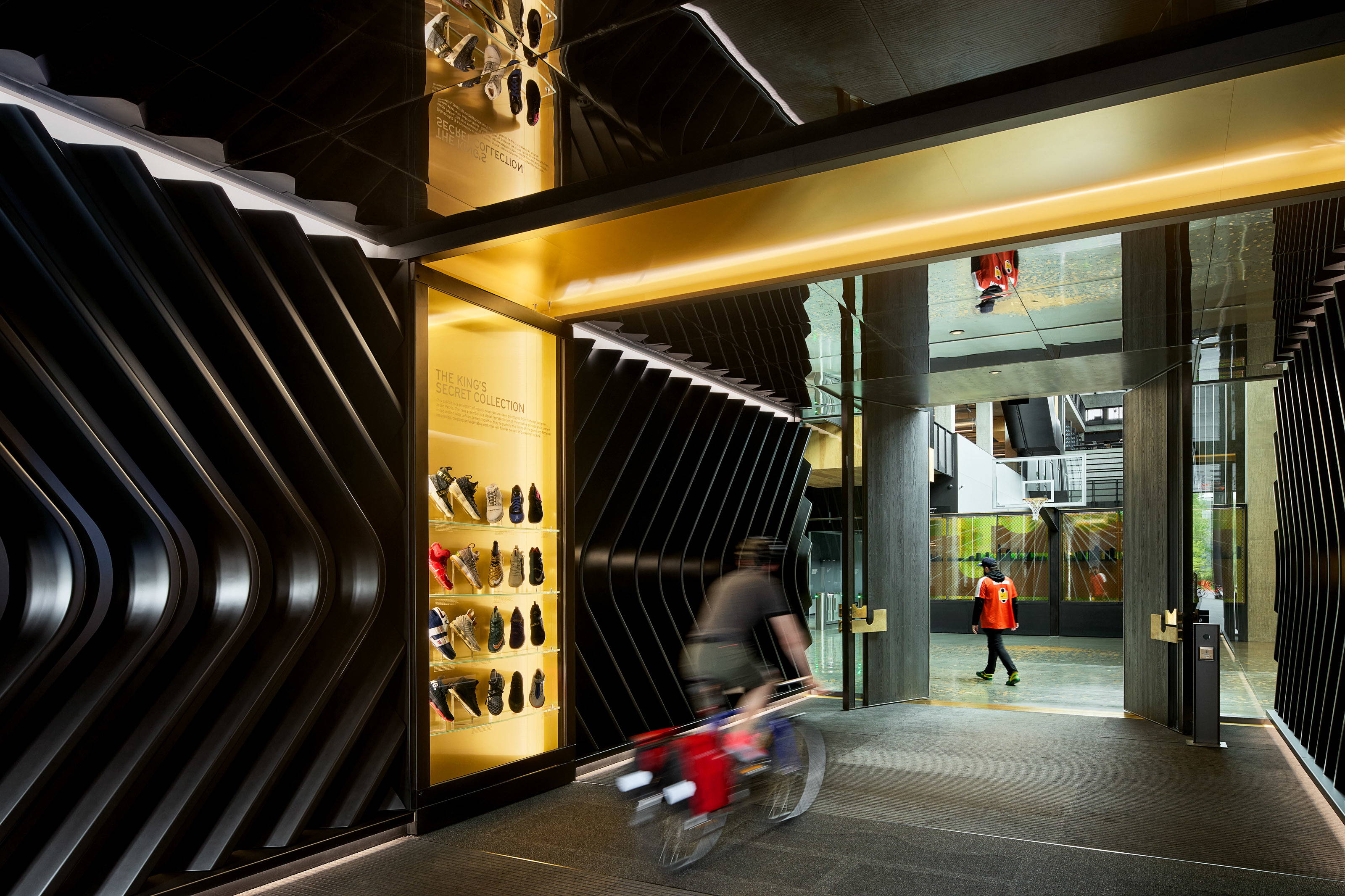 The building—one of several new facilities on the WHQ campus—was recently certified LEED-NC v2009 Platinum. Nike also unveiled an interactive website, which details the story of the building design, the evolving work of Nike's Advanced Innovation team, and the life and career of LeBron James.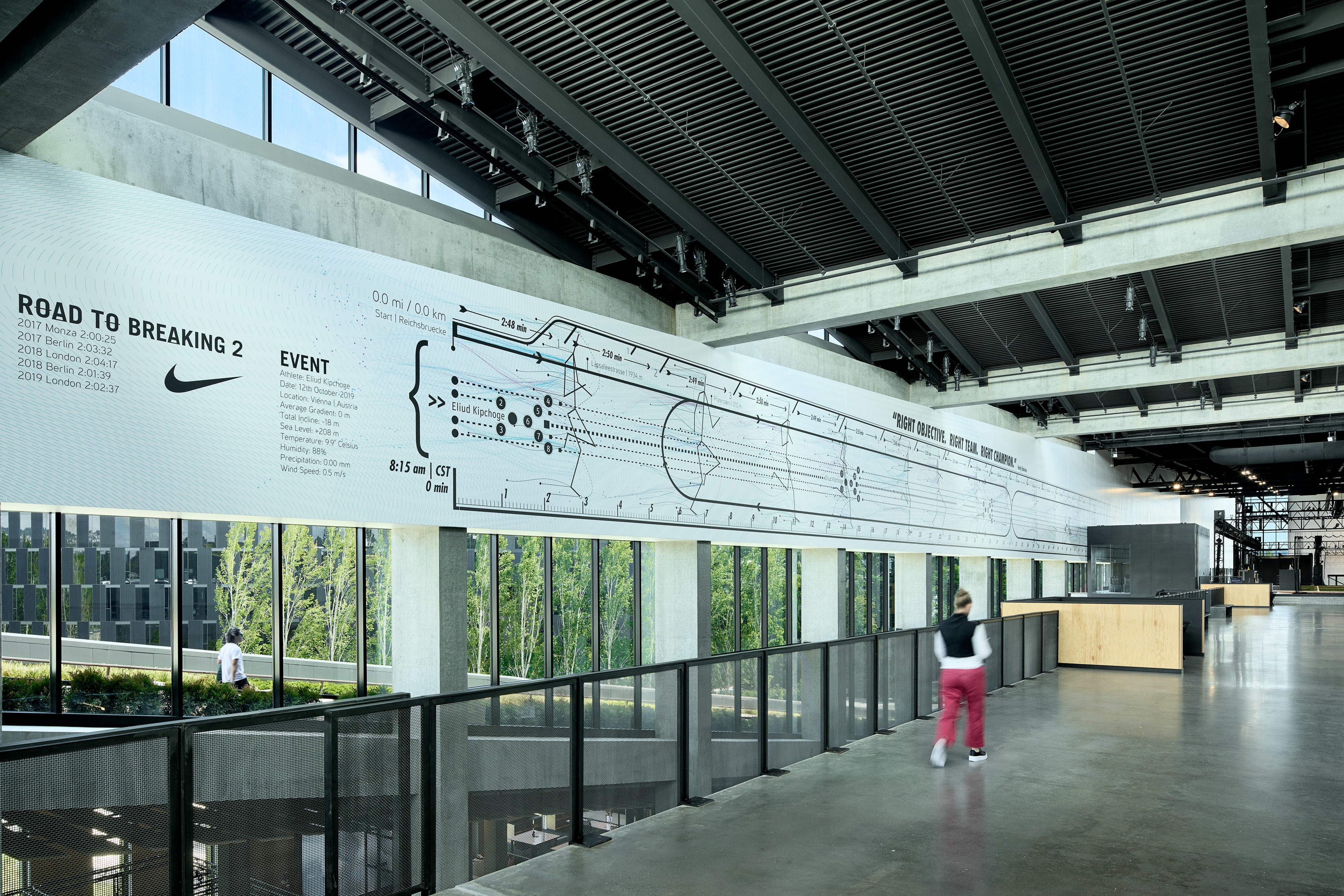 "Over the course of my career and my time here at Nike, for all of this to come together is surreal," said James

in this Architectural Digest story

. "Sometimes it doesn't make sense to me, but I'm definitely honored. Having my name on the Innovation building feels very fitting because I'm always trying to figure out ways I can continue to innovate and continue to break the timeline of what they say is your prime."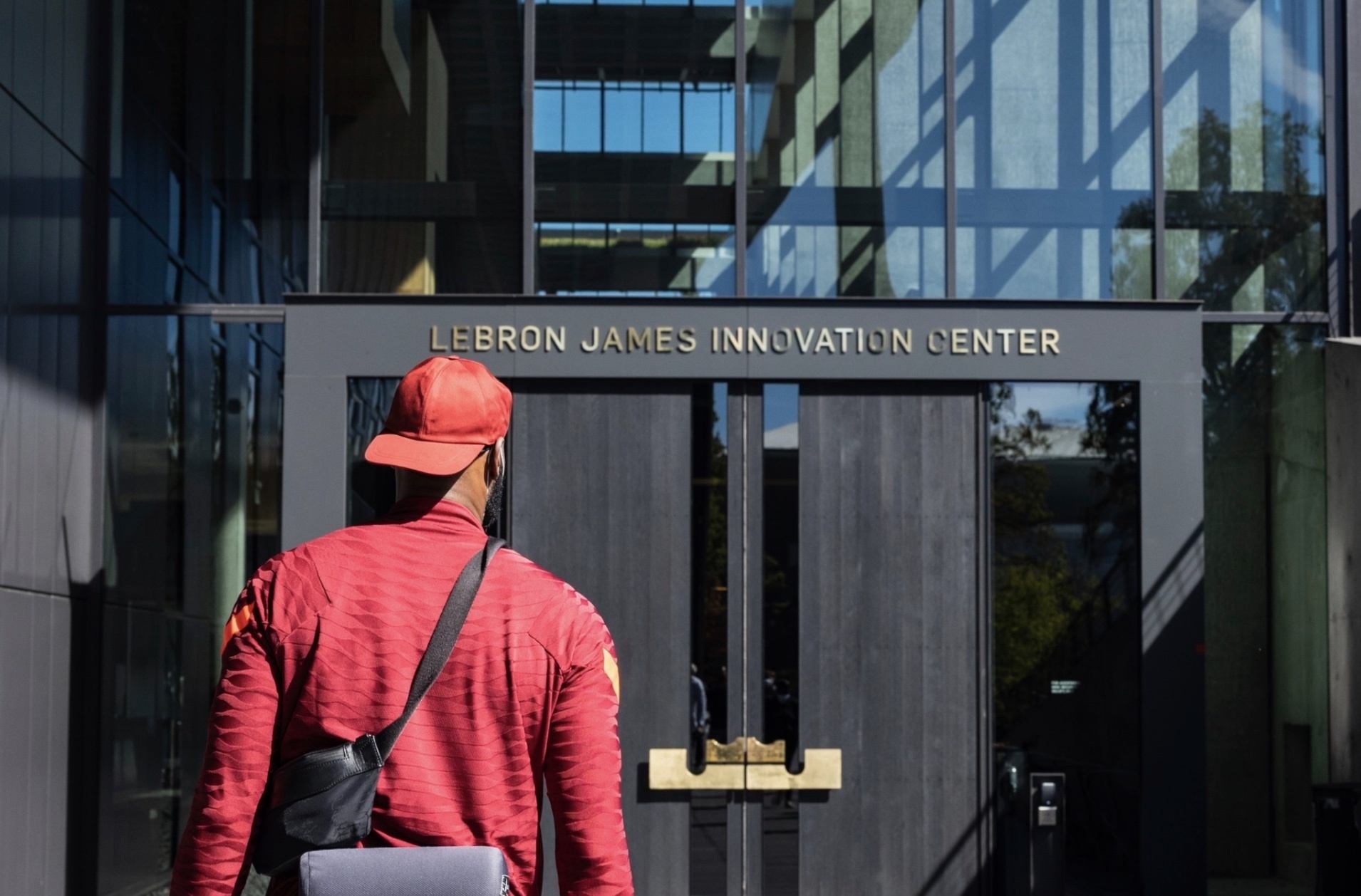 Media Contact
For further inquiries and information, please contact: [email protected]
About Olson Kundig
Now in its sixth decade of practice, Olson Kundig is a collaborative design practice whose work includes cultural and museum projects, exhibition design, commercial and mixed-use design (including wineries and sports facilities), private and multi-family residential, hospitality projects, places of worship, interior design, product design and landscape design. With deep roots in the Pacific Northwest, the firm and its staff of over 200 work with clients around the world. More information at olsonkundig.com.
About Tom Kundig
Olson Kundig principal/owner Tom Kundig, FAIA, RIBA, has received some of the world's highest design honors, including a National Design Award in Architecture from the Cooper Hewitt Smithsonian Design Museum, an Academy Award in Architecture from the American Academy of Arts and Letters. Known for his contextual approach to design, his buildings are a direct response to place, often serving as a backdrop to the built, cultural or natural landscapes that surround them. Tom's ongoing work includes private homes, hospitality projects, workplaces and adaptive reuse projects around the globe.
LeBron James Innovation Center Credits
Olson Kundig team: Tom Kundig, FAIA, RIBA, Design Principal – Architecture; Steven Rainville, AIA, LEED® AP, and Angus MacGregor, RIBA, LEED® AP, Principals; Christopher Butler, AIA, LEED® AP BD+C, Project Manager; Laura Sinn, Derek Santo, LEED® AP BD+C, Holly Simon, Gavin Argo, Thanasis Ikonomou, Claire Fontaine, Megan Quinn, John Hallock and Sheena Garcia, Architectural Staff; Kirsten Ring Murray, FAIA, Design Principal – Interiors; Sarah Muchow, IIDA, NCIDQ, Margaret Undine, NCIDQ, Jamie Slagel, Kinsey Johnson, Naomi Mason, Cristina Acevedo and Erin Hamilton, Interiors Staff; Steve Wong, Kinetic Design; Jane Devine, Senior Project Administrator
Key collaborators and consultants: Mortenson, General Contractor; Thornton Tomasetti, Structural Engineer of Record; NV5 (formerly WHPacific, Inc.), Civil Engineer; WSP, Mechanical, Plumbing, and Electrical Engineer of Record, Fire Protection, Lighting, AV/IT, Security, and Built Ecology Consultant; Studio Matthews, Environmental Graphics and Wayfinding Design; RDH, Building Envelope Consultant; Niteo, Lighting Design; O'Brien360, LEED Consultant; PLACE, Landscape Architect; Applied Building Information, Specification Writing; BRC Acoustics, Acoustics Consultant; Code Unlimited, Code Consultant; Front Inc., Façade Design Assist; HDA~Pacific, Food Service Consultant; Lerch Bates, Elevator Consultant; Soares Builder Inc., Concrete Specialist.