Olson Kundig Designs New High-Rise Along Atlanta BeltLine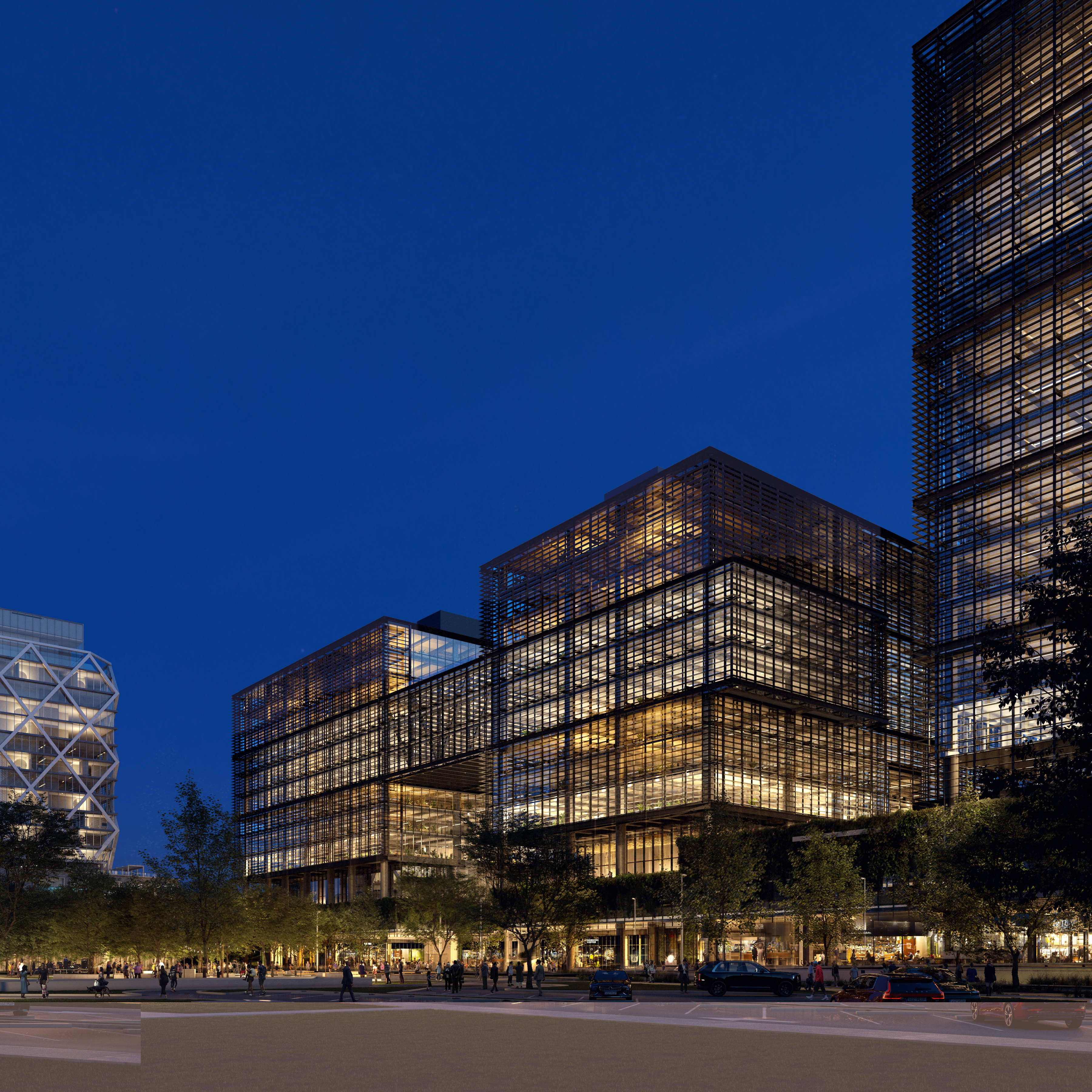 SEATTLE, WASHINGTON, May 20, 2021—Olson Kundig is pleased to share the design of 760 Ralph McGill Boulevard, a new mixed-use high-rise development currently under construction along Atlanta's BeltLine. Led by developer New City, LLC, this new 1.1 million-square-foot project includes office space and street-level retail organized around a central public plaza. The project, which is located on the site of a former Georgia Power operations center, also includes HKS as executive architect and Brasfield & Gorrie as general contractor.
"We've always felt this unique site gave us the opportunity to do something truly iconic," says Jim Irwin, president of New City, LLC. "The new buildings expand local civic and cultural amenities, as well as introducing a modern new workplace for our future tenants."
Designed to create new urban connections between Old Fourth Ward Park and the rapidly revitalizing Atlanta BeltLine corridor, 760 Ralph McGill Boulevard is organized around two portals. The first portal frames views of downtown, symbolizing a look towards the future, while the second portal connects to the historic Fourth Ward Park. The main plaza will connect to the planned light rail station on the BeltLine, and the building will incorporate a bike path that connects to the BeltLine Bicycle Trail and inner-city bike trails beyond. Last fall, it was confirmed that web-based marketing company MailChimp will be the project's anchor tenant.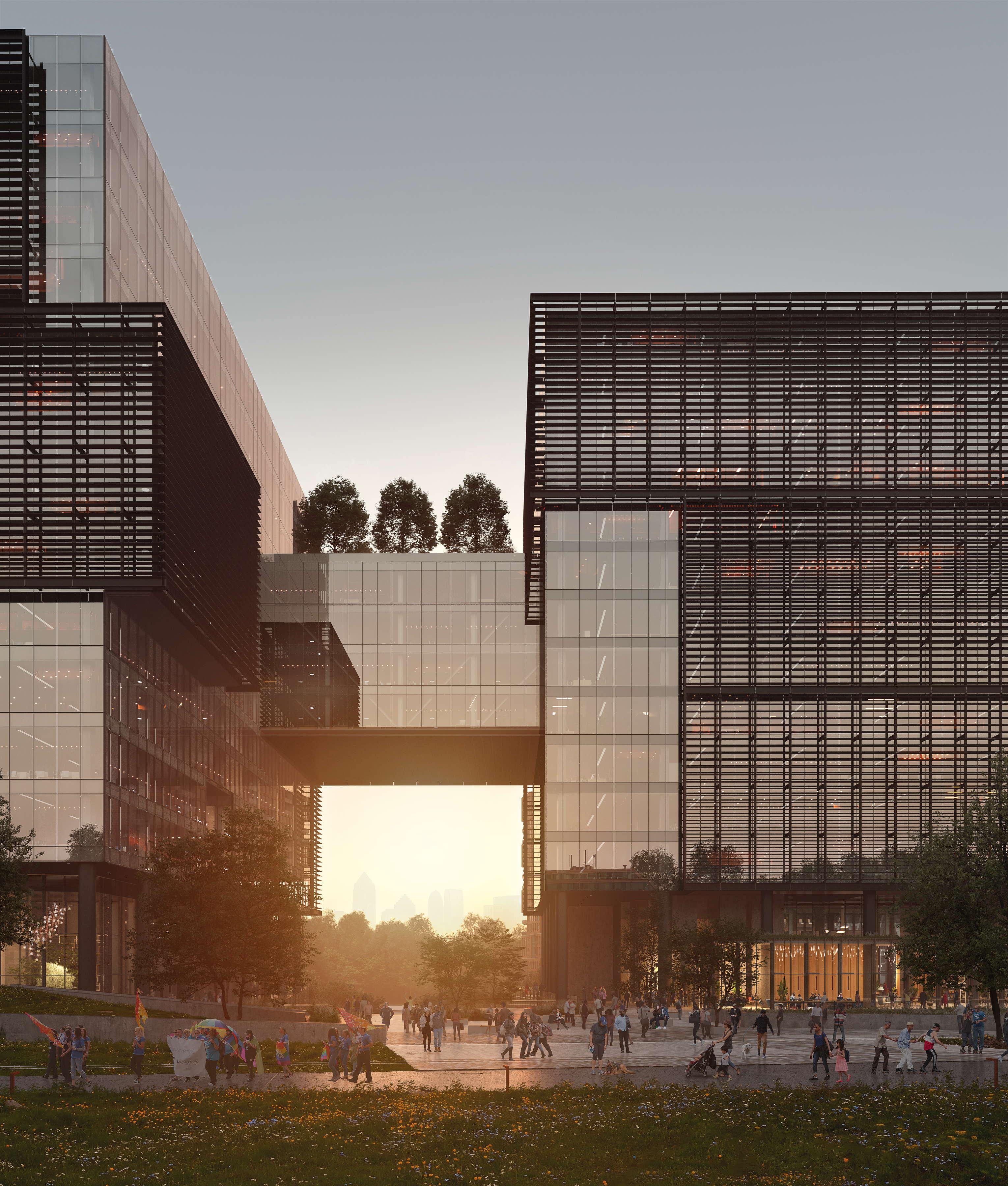 "We're deeply honored by the opportunity to design a flexible, functional workspace that also serves the surrounding community," says Olson Kundig principal and owner Tom Kundig. "This high-performing project merges a future-looking sustainability agenda for the city with a design that activates the public realm."
Integrated sustainable design features will reduce energy consumption, address stormwater runoff and encourage alternate forms of transportation. The design team utilized extensive daylight and thermal modeling to create a custom façade that will enhance building performance while maintaining access to natural daylight and thermal comfort for occupants. High floor-to-floor heights and optimized floor plates further maximize spatial daylight autonomy. The building is targeting LEED® Gold Certification.
"The building and its dynamic central plaza create a new link between the historic Fourth Ward Park and the rapidly revitalizing BeltLine corridor," adds Olson Kundig principal and owner Kirsten Murray, FAIA. "This project showcases Atlanta's position as a leader in innovation, as well as its vision for a walkable, livable business district that responds to the evolving needs of office tenants."
About New City, LLC
New City is a commercial real estate development firm with a focus on creating unique non-commodity places where community can grow and flourish. The company has a specific concentration on the preservation of structures with historic character and exploring ways to repurpose them for modern use. New City's aim is to create authentic places that allow people to align their personal priorities with the spaces where they spend their lives. Based in the Southeast, New City Properties is principally focused in Georgia and Tennessee.
About Brasfield & Gorrie
Founded in 1964, Brasfield & Gorrie is one of the nation's largest privately held construction firms, providing general contracting, design-build, and construction management services for a wide variety of markets. They are skilled
in construction best practices, including virtual design and construction, integrated project delivery, and Lean construction, but are best known for their preconstruction and self-perform expertise and exceptional client service. Brasfield & Gorrie has 12 offices and approximately 3,000 employees, and their 2020 revenues were $3.9 billion. Engineering News-Record ranks Brasfield & Gorrie 22nd among the nation's "Top 400 Contractors" for 2020.
About HKS
HKS is a global firm of architects, designers, advisors and makers driven by curiosity and devoted to creating places that combine beauty with performance. Our 1,350 people in 23 locations are united by our shared culture and sense of purpose. We value honesty, diversity and inclusion
and we celebrate creative thinking across our firm. In partnership with each other, our clients and our partners, we craft powerful ideas and solutions. Together we create places that stand apart. More information at hksinc.com.
About Olson Kundig
Now in its sixth decade of practice, Olson Kundig is a collaborative design practice whose work includes cultural and museum projects, exhibition design, commercial and mixed-use design (including wineries and sports facilities), private and multi-family residential, hospitality projects, places of worship, interior design, product design and landscape design. With deep roots in the Pacific Northwest, the firm and its staff of over 200 work with clients around the world. More information at olsonkundig.com.